the killbuck savings bank announces leadership changes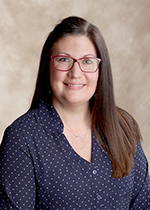 Victor H. Weaver Appointed President and CEO
Rachel D. Miller Promoted to Executive Vice President
APRIL 2021: The Board of Directors of The Killbuck Savings Bank Co. is pleased to announce a transition in leadership that will leverage the strong capabilities of its executive team, providing continuity in management and underscoring the Company's focus on the long-term growth of the Bank.

With the retirement of Craig A. Lawhead on March 31, 2021 as CEO, the Board of Directors have appointed Victor Weaver as President and CEO. Weaver began his banking career at The Killbuck Savings Bank in 1993 and has held various leadership roles within the organization. Born and raised in Holmes County and contributing to the Bank's success for over 27 years, the Board of Directors believe he is the right executive to lead the Bank in the years ahead, as Weaver's breadth of experience, love of community, and understanding and insights of the industry will be instrumental in achieving the future growth of the organization.  Vic and his wife, Tammy, reside in Benton and enjoy spending time with their children and grandchildren. 
Additionally, Rachel D. Miller has been promoted to Executive Vice President.  Mrs. Miller joined the bank in 2002.  As a West Holmes graduate, she began her career while attending Malone College where she earned her Bachelor of Science degree in Accounting and Business Administration. She has held several positions within the Bank and currently serves as the Chief Financial Officer.  The Board is confident in Rachel's abilities, as a member of executive management, to lead the Bank into the future.  Mrs. Miller currently serves on the Holmes County Chamber of Commerce Board of Directors.  She resides in Millersburg with her husband, Joe, and their three children.   
"Mr. Weaver and Mrs. Miller are proven leaders of the Bank and their common sense and forward looking approach will only improve our bank for years to come," said Craig Lawhead, retiring CEO.
Angela S. Miller returns to the killbuck savings bank
January 2021- Vic Weaver, President of The Killbuck Savings Bank Company is pleased to announce that Angela "Angie" S. Miller has accepted the position of Commercial Loan Officer at our Berlin office.  Ms. Miller began her banking career in 1999 here at The Killbuck Savings Bank. Rejoining the lending team at The Killbuck Savings Bank is like "coming home" said Miller.  
Angie brings more than 20 years of experience in the financial services industry, with expertise in commercial lending relationship management and business development. "Her relationship management skills, business and financial acumen as well as her desire to exceed customers' expectations, coincide very nicely with our bank," said Mr. Weaver.    
With an unwavering dedication to serving her community, Ms. Miller is the Fiscal Officer for Auburn Township, she serves on the Garaway Youth Girls Softball Board, Ragersville PTO, the Garaway Pirate Power Pack program, is the Garaway Girls Golf Coach, and volunteers with the Sugarcreek Business Association.  She is a firm believer that volunteering allows you to connect with your community and make it a better place. 
She, her husband, and their three children reside in Sugarcreek.  In her spare time, she enjoys spending time with her family camping, playing golf, and supporting her family in their extracurricular activities.
Best of bauer killbuck savings bank continues to thrive
Killbuck, OH - January 2022:  BauerFinancial, Inc., the Nation's Premier Bank Rating Firm, congratulates The Killbuck Savings Bank Co., Killbuck, Ohio on its 122nd consecutive 5-Star Rating. To earn this top rating, the bank must excel under a rigorous, independent analysis of its financial condition. And The Killbuck Savings Bank Co. has done so continuously since December 1991. Only banks, like The Killbuck Savings Bank Co., that have earned this top rating for 100 consecutive quarters (or longer) can call themselves a "Best of Bauer Bank".
How do they continue to perform so well during these difficult times? We asked Karen Dorway, president of BauerFinancial, for her insight. "The Killbuck Savings Bank Co., and other community banks like it, are uniquely positioned to help local people and businesses when times are unpredictable," she reflected. "As an integral part of the community, community bankers have the intimate knowledge of exactly how given circumstances may affect neighbors and friends. That knowledge, combined with the ability to think, act and react locally, means that decisions can be made faster and implemented in the best manner possible for the community."
The Killbuck Savings Bank Co.'s personal interest in the people and communities it serves has been on full display since its inception in 1900. The Killbuck Savings Bank Co. is a source of strength and stability for the community, and has been for 122 years. No matter what circumstances they are facing, The Killbuck Savings Bank Co.'s friendly and caring staff is always ready to lend a hand, whether at the branch, by phone or on their website:  killbuckbank.com.
The Killbuck Savings Bank:  "Community Banking. It's what we do. It's who we are. Every single day."   
Bank and Credit Union data compiled from financial data for the period noted, as reported to federal regulators. The financial data obtained from these sources is consistently reliable, although; the accuracy and completeness of the data cannot be guaranteed by BauerFinancial, Inc. Since 1983, BauerFinancial has relied upon this data in its judgment and in rendering its opinion (e.g. determination of star ratings). BauerFinancial, Inc. is not a financial advisor; it is an independent bank research firm. No institution can pay for or opt out of a BauerFinancial rating. Star-ratings are all available for free at bauerfinancial.com.
###
BauerFinancial, Inc. P.O. Box 143520, Coral Gables, FL 33114.