Our goal is to assist you in any way possible
Running a successful business means sweating the details. That's why we offer a wide range of services that can improve your money management, facilitate better cash flow, save time and enhance security.
Mastercard Debit/ATM Cards
Business debit cards come with a long list of convenient features. They can be used for quick purchases of supplies and inventory. They provide fast access to accounts through ATMs. And your business can order multiple cards and control expenses by authorizing specific spending limits for each card.
24/7 account access

Accepted at any business that displays Mastercard logo

Four card designs to choose from

Daily cash withdrawal limit of $400

Daily spending limit of $1,000

Accounted access protected by Personal Identifications Numbers (PINs) and other security measures

Please notify one of our branches immediately if your Mastercard debit/ATM card is lost or stolen. After regular business hours, please call 1-866-546-8273.
MyCardRules™ Debit Card Protection

With MyCardRules™, your finances are more protected than ever. Easy-to-use settings let you decide when, where and how your debit card is used. You can get a notification every time your card is used,  turn your card on or off when necessary,  limit purchase amounts, and much more.
Enroll and manage MyCardRules™ from the KSB mobile banking app

Protect yourself from fraud and unauthorized expenditures by instantly turning off a card that's been lost or stolen

Deny transactions that exceed a spending limit that you've set

Get a notification each time the card is used - or limit notifications to specific card activity

Decline or restrict in-store transactions based on your settings
Merchant Services
Fewer consumers are paying for products and services with cash and checks and more are using debit and credit cards. Make sure your business can process these payments quickly and efficiently.
With one account you can accept with a smart terminal, virtual terminal, mobile device, or website shopping cart
EMV, NFC, contactless and QR code acceptance
Online and mobile reporting dashboards
Quarterly pricing audit
Protection against rate increases and billing errors
Instant and next day funding
Surcharging, interchange optimization and high risk-processing available

Customer service is available 24/7 from trained professionals at 1-855-208-7284. 
Direct Deposit
Streamline your payroll process, save time and reduce your staff workload by transmitting funds directly to the bank accounts of your employees.
Ask your human resources or payroll department to contact Killbuck Savings Bank for more information

Make life easier for your employees by reducing trips to the bank and giving them faster access to their paychecks

Security safeguards protect each employees' personal information and your business's account data
Bank by Mail
Some days, there's just no time for anyone from your business to make a trip to the bank. When that's the case, just drop your deposit, loan payment, certain utility payments, or any other banking document in a secure mailbox.
Address your envelope to P. O. Box 407, Killbuck, OH 44637

We do not recommend sending cash transactions through the mail
Night Depository
We know that it isn't always possible for you or one of your employees to get to the bank during regular business hours. Our locations feature safe, convenient facilities for after-hours cash and check deposits.
Service is available at all branch locations except the Loan Annex
Safety Deposit Boxes
Certain items deserve more security than you can provide in your office or workplace. We offer safety deposit boxes of various sizes for reasonable annual fees.
Safeguard important documents pertaining to your business, its insurance coverage and legal matters.

Boxes available at these bank offices: Apple Valley, Berlin, Danville, Fredericksburg, Killbuck, Millersburg North, Millersburg South, Sugarcreek and Mt. Hope
Cashier's Checks
In commerce, cashier's checks are sometimes used for larger purchases or in transactions between companies without established financial relationships.
Cashier's checks available for $7 fee

Because they're signed by a bank official, they may be more widely accepted than your regular business checks

Contain watermarks and other anti-counterfeiting measures

Can usually be cleared by the receiving bank faster than your regular business checks
Foreign Currency Exchange
Headed out of the country on a business trip? There's one less thing to worry about when you arrive at your destination with the proper currency in hand.
Receive a fair exchange rate

Use cash to avoid card-related international service fees on smaller purchases

Receive assistance with any questions about your destination's accepted currency

Cash in your international currency after returning from abroad

Foreign currency orders greater than $300 will incur a $13.00 fee
Foreign currency orders $300.00 or less will incur a $23.00 fee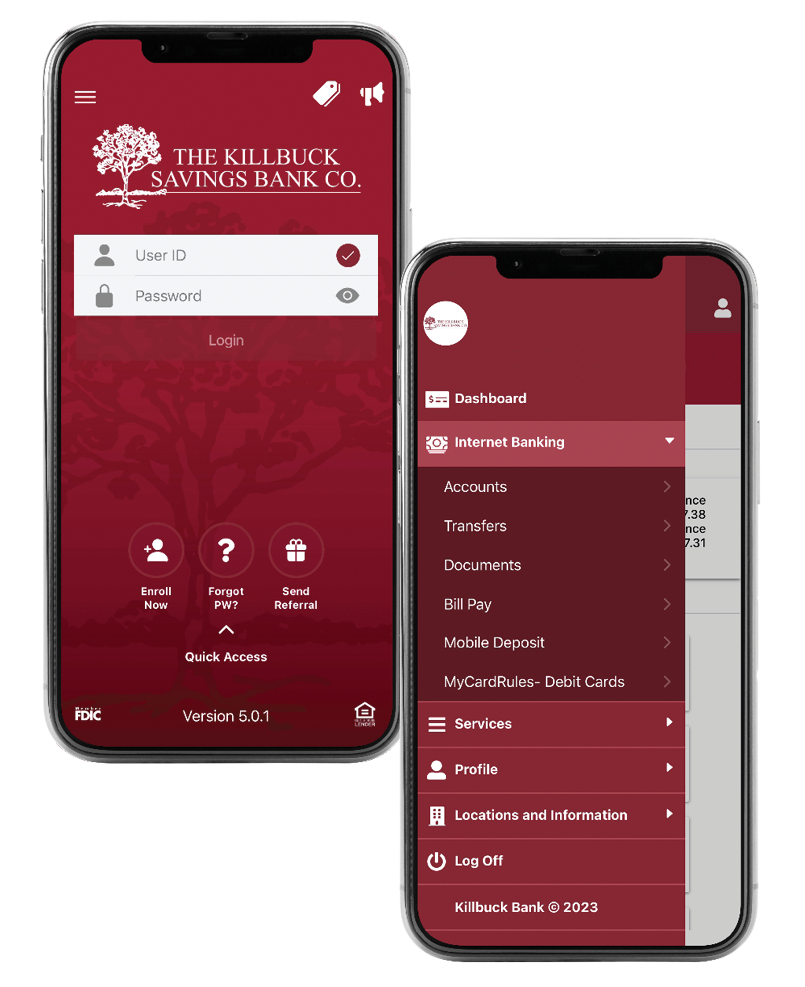 Bank Anywhere with KSB Mobile
View account activity, deposit checks, transfer funds, and pay bills.