Protect what's important to you from being stolen by someone who can potentially harm your good name and financial well-being. Taking proper precautions with your banking transactions can help you avoid becoming a victim of fraud, giving you more control over what happens with your credit score.
"Phishing" is a method developed by scammers and hackers to get unsuspecting victims to reveal their personal information and is a contributing factor to the rise in identity theft. The most common method of phishing involves cleverly designed e-mails which claim to be from reputable companies with whom the recipient may or may not have a relationship. The bogus e-mail requests the recipient to confirm personal information such as client ID, passwords, account numbers, etc. The e-mail may instruct you to "update" or "validate" your personal information via email or direct you to a phony web site that looks like a legitimate web site.
---
Tips to Avoid Becoming a Victim of Identity Theft:
Carefully review your bank statement each month.

Add a trusted individual to your bank accounts as "read only." This person can help you monitor account activity.
Enable fraud alerts on your Killbuck Savings Bank accounts. You set the guidelines to stay in touch with your finances in a way that makes sense for you.

Carefully review your monthly accounts, credit card statements, and utility bills (including cellular telephone bills) for unauthorized charges as soon as you receive them.

If you suspect unauthorized use, contact the provider's customer service and fraud departments immediately.

When you order new checks, ask when you can expect delivery.




If your mailbox is not secure, then ask to pick up the checks at your financial institution instead of having them delivered to your home.


Keep a list of all your credit cards and bank accounts along with their account numbers, expiration dates, and credit limits, as well as the telephone numbers of customer service and fraud departments. Store this list in a safe place.

Keep your Social Security number out of circulation and release it only when necessary.

Never give your Social Security number, account numbers, or personal credit information to anyone who calls you.

Store personal information in a safe place and shred or tear up documents you don't need.

Destroy charge receipts, copies of credit applications, insurance forms, bank checks and statements, expired charge cards, and credit offers you get in the mail before you put them out in the trash.

Cancel your unused credit cards so that their account numbers will not appear on your credit report.

Keep track of credit card, debit card, and ATM receipts. Never throw them in a public trash container. Tear them up or shred them at home when you no longer need them.

Choose to do business with companies you know are reputable, particularly online.

When conducting business online, use a secure browser that encrypts, or scrambles purchase information and make sure your browser's padlock or key icon is active.

Don't open e-mail or download content from unknown sources. To ensure that your computer is protected from malware and harmful viruses, always use the most up-to-date anti-virus detection software available.

Do not be intimidated by an e-mail or caller who suggests dire consequences if you do not immediately provide or verify financial information.
---
Be Diligent:
Check your Social Security Earnings and Benefits statement once each year to make sure that no one else is using your Social Security number for employment.

Order a copy of your credit report from the three credit reporting agencies every year.
Make sure all the information is correct, especially your name, address, and Social Security number.
Look for indications of fraud, such as unauthorized applications, unfamiliar credit accounts, credit inquiries, and defaults and delinquencies that you did not cause.
Check your bank statements on a regular basis and report any suspected fraudulent activity to the bank immediately.
Protect your PIN number.
Avoid using your debit card online.
Only use ATMs that are associated with a bank.
Don't use public WIFI wireless access for financial transactions.
Change your PIN and password every few months. Memorize the PIN, do not write it down.
Notify the bank when traveling out of state.
Block the view of others when entering your PIN at point of sale terminals.
Observe your surroundings when approaching a walk-up ATM. If you see suspicious activity, leave the area.
Be observant of "skimming devices" attached to point of sale terminal. (Skimming devices are attached to the terminal that fraudsters use to retrieve your card number and PIN.)
Protect your card. Treat it like cash.
Online & mobile banking safety
Password-protect your device and take advantage of built-in security functions such as Auto-Lock and Two-Factor authentication.
Always LOG OUT of mobile and online applications when you have completed your banking activities.
Keep your devices up-to-date by staying current on virus updates.
If your phone or tablet is lost or stolen, contact us immediately to deactivate your device from your mobile banking profile.
Use caution when connecting to public WIFI hotspots. Don't conduct mobile banking or any financial transactions over an unsecure public WIFI network.
Don't use a public or shared computer. Online Banking should be conducted on a computer that you know to be safe and secure. If you must use a computer other than your own, make sure to clear the browser history and cookies and always LOG OUT of your account.
Avoid clicking on emails that are suspicious looking. Also, if the email looks suspicious do not click on any links it may contain.
---
A Few "Terms"
Cookies:
A cookie is a small information file that a website puts on your hard drive in order to remember something about you later. Typically, a cookie keeps track of your preferences when using a site. By using cookies, an on-line store, like Amazon, can keep track of what items you have placed in your shopping cart as you surf the site. If you'd like, you can view the cookies that have been placed on your hard drive. The location of the cookies, however, generally depends on your browser. Internet Explorer stores each cookie as a separate file under a Windows subdirectory, whereas Opera stores them in a single cookies.dat file.
In Internet Explorer, you can delete cookies by clicking on "Tools," scrolling down to "Internet Options," and clicking "Delete Cookies." An Internet site will generally use one of the two following types of cookies:
Session Cookies:
Session cookies are stored on your hard drive only during the time that you are at a website. They are automatically deleted when you terminate your session. A website will use session cookies to assist with navigation by remembering what pages a user has already visited, or whether a user has logged-in to the site. Secure Florida uses session cookies.
Persistent Cookies:
Persistent cookies store on your personal preferences on your computer for an extended period of time. Most browsers will allow you to configure how long you would like to keep persistent cookies. If a malicious hacker were to gain access to your computer, they provide the ability to gather personal information about you from stored persistent cookies.
It may be a good idea to consider adjusting your privacy and security settings to block or limit cookies in your web browser. In Internet Explorer, you can get to both settings by clicking on "Tools," and selecting "Internet Options." The "Privacy" and "Security" tabs should appear at the top of the options menu.
Card Fraud
Credit Card and Debit Card Fraud is when someone uses your Credit Card or Debit Card to make a purchase you didn't authorize.
Remember, your card does not need to be lost or stolen for someone to use it. Many times, card numbers are obtained illegally through websites (when you make online purchases) or simply by someone reading the numbers off your card without you knowing it.
If you notice an unauthorized charge on your credit card or funds missing from your bank account, contact us immediately. The sooner you report fraud, the faster The Killbuck Savings Bank Co., other financial institutions, and the authorities can help you.
---
If you believe you have become a victim of fraud, please do the following:
To report suspected fraud on your KSB Credit Card call 1-800-876-9119 and let us know your Credit card has been compromised.

Please notify one of our branches immediately if your Mastercard debit/ATM card is lost or stolen. After regular business hours, please call 1-866-546-8273.


If you are an Online Banking customer, login to your account on the website to report the card lost or stolen.

If you are a mobile app customer, login to your mobile app and go to the options tab to report your card lost or stolen.  Contact any other financial institution you do business with and make them aware.

Contact all three consumer credit reporting agencies (Equifax, Experian, and Transunion) and request a copy of your credit report.


Place a SECURITY/FRAUD alert on your credit profiles.

Close the accounts that you know, or believe, have been compromised.

Request the creditors report they closed your accounts as "account closed at consumer's request," because a simple "closed account" may reflect poorly on your credit report.

Ask each creditor to send you the copies of the compromised transactions and take note of date and to whom you spoke.

Monitor your credit reports moving forward for activity.

Keep an eye on your bank statements and notify Killbuck Savings Bank immediately if you notice any additional signs of fraud.

Contact your local police department and file a report.

Make sure the police report includes all the accounts that have been affected.

Provide police with a copy of compromised transactions.

Ask for a copy of the police report for your records.

Change your passwords and PINs immediately to prevent fraudsters from doing any further damage.
Elder Abuse can be difficult to identify. There are many indicators, taken in isolation that may not appear suspicious. However, when coupled with other behaviors or activities, these indicators may suggest the Elder needs help or protection.
If you suspect Elder Abuse, it's important to report it immediately, given the possibility of serious harm to the victim's assets that could happen. Even if you're unsure about whether such abuse is actually taking place, reporting your suspicions is an important first step.
---
Know the Signs of Elder Abuse
Sudden changes in bank accounts balances or banking practices

Sudden Non-Sufficient Fund activity

Bills left unpaid despite the availability of adequate financial resources

Debit transactions that are inconsistent for the Elder

Closing of CDs or accounts without regard to penalties

Elder is reluctant to talk to you about matters he or she usually discusses

Elder seems nervous, anxious, or fidgety

Elder is negative and avoids eye contact

Elder shows an unusual degree of fear or submissiveness toward a caregiver or expresses a fear of eviction or nursing home placement if money is not given to a caretaker.
---
Prevention
Review Bank and Credit Card Statements often.

Choose to receive texts or emails from The Killbuck Savings Bank when certain activities happen on your accounts.

Set up direct deposit for checks so others don't have to cash them.

Add a trusted individual to your bank accounts as "read only." This person can help monitor account activity, but does NOT have authorization to transfer or withdrawal funds.

Never give out personal information over the phone or via email. Instead, hang up.
If it's a business that you do business with, look up the phone number from your own records and call them and report it.

Check your credit reports regularly and consider placing a freeze on your credit history, if you don't plan to take out any loans or lines of credit in the near future.

Use a cross-cut shredder to destroy paper statements or other records you no longer need.
---
Actions to Take if You Suspect You or Someone You Know is a Victim
Report the suspected Elder Financial Abuse to your local Law Enforcement.

Report the suspected Elder Financial Abuse to your local County Job & Family Services.

Report the suspected Elder Financial Abuse to your local Bank representative.
Call 1-855-OHIO-APS
MYCARDrules™ debit card protection
With MyCardRules™, your finances are more protected than ever. Easy-to-use settings let you decide when, where and how your debit card is used. You can get a notification every time your card is used,  turn your card on or off when necessary,  limit purchase amounts, and much more.
Enroll and manage MyCardRules™ from the KSB mobile banking app

Protect yourself from fraud and unauthorized expenditures by instantly turning off a card that's been lost or stolen

Deny transactions that exceed a spending limit that you've set

Get a notification each time the card is used - or limit notifications to specific card activity

Decline or restrict in-store transactions based on your settings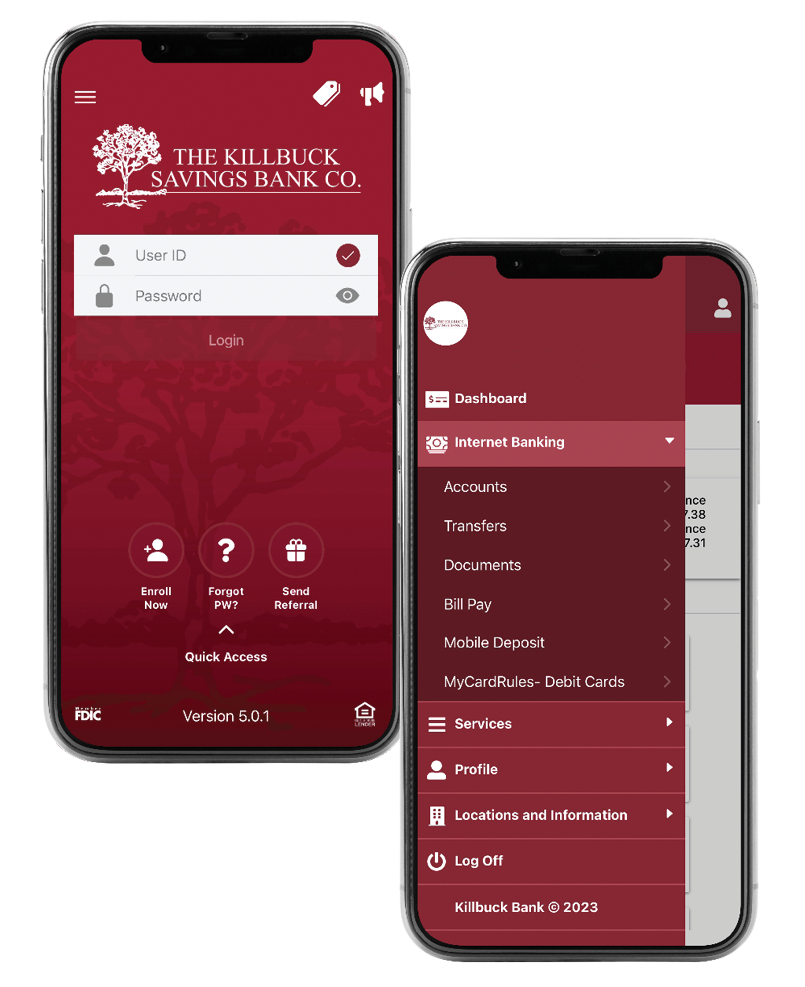 Pay bills from your computer or mobile device.
Make convenient and secure transactions to anyone or company across the United State, for free.